No agency owner wants to see their most productive manager leave the company. But if you don't provide a growth-fostering environment, this might be inevitable.
As surprising as it may sound, one in two managers will quit their job over the course of next year. Why do you think this is the case?
The truth is that managers leave their jobs for several reasons.
To start with, they may be dealing with a toxic work environment and unhealthy relationships with those under them. They might also be left out of decision-making, limiting their contribution.
But one of the leading causes is a lack of training opportunities.
In fact, 76% of managers want more development opportunities. It's just that companies, including many agencies, fail to hear or overlook their managers' desires and priorities. As a result, many might quit their job and seek out companies that can better fulfill them.
The last thing you need as an agency owner is your best-performing manager leaving you. To avoid this, you can focus on management development, which you're about to find out how.
.
How to Train Your Managers
Training your managers is an ongoing project that comprises several critical tasks, five of which will be discussed in detail here.
Focus on Leadership Training
Managerial and leadership roles are usually considered distinct. Managers reputedly instruct people to act, whereas leaders inspire them. But the reality is quite different, with blurred lines between these two roles.
Managers need to possess leadership qualities if they want to promote high-performing teams.
A great way to transform your managers is to send them to leadership courses for managers. These programs are designed to cover practical abilities and knowledge.
For instance, they can understand better the different types of leadership, such as transactional, transformational, and inspirational. And e-learning courses can help managers identify their preferred leadership attitude.
In addition, leadership courses can also afford ample opportunities for your managers to adopt and perfect their abilities. A good example is an online course with quizzes and branching scenarios. Alternatively, in-person role-playing sessions enable managers to apply their leadership skills in realistic settings.
Identify the Skills Each Manager Should Work on
Another thing you can do is assess the skills of your managers and develop professional development programs that target those skills. If some of them are inherently present, you can move on. In other cases, they may require extensive training.
Here are a set of skills that can really benefit your managers:
Strategic planning
Time management and organizational skills
Project management and project planning
Effective leadership skills, including delegation, motivation, feedback loops, empathy, assertiveness, and emotional intelligence
Problem-solving and decision-making
Risk management
Honest self-assessment
Financial management comprising practical management and budget establishment
Again, your managers may have acquired most of these skills through practice or as a matter of course. If so, training them could be a waste of time.
That said, you should still monitor your managers continually since gaps can appear after a while. Confident managers are eager to acknowledge any gaps and take appropriate action to fill them.
Encourage Managers to Master Communication
One of the most effective methods to improve the effectiveness of your managers is to help them enhance their communication skills. They must be able to communicate with team members in a way that avoids misunderstanding and hampered productivity.
To that end, you can establish a conversational culture by encouraging your managers to have regular discussions with other team members.
You might be able to supply guidelines, such as agendas, timeframes, and questions, for inspiring honesty and informality. These sessions can create a transparent work environment, improve employee engagement, and elevate your team's performance.
Don't Forget Soft Skills
Soft skills, such as listening and empathy, and their training are also key to keeping your managers happy. For one, you could instruct your managers to follow a cycle of practice, reflection, learning, and repetition.
Give them enough time, confidence, and freedom to apply their new coaching and leadership skills in real-life situations.
Occasionally, you may be able to structure these practice opportunities as team talks and review meetings. Or, your managers can coach and lead during informal hallway chats.
Above all, give your managers room to learn every day or week, depending on how much improvement is needed. They can do this through one-on-ones with their supervisors or coaches and online discussion forums for managers.
Whatever you decide, your managers should be receptive to feedback, know their strong points, and be willing to address their weaknesses.
Provide Managers with the Data and Tools They Need
To fully understand your agency's needs, give your managers all the data they need about their team members. This would include employee feedback on their effectiveness and engagement levels. If you refuse to share this information, you may not be able to unlock your company's full potential.
Remember, the managers who know what to focus on are those who can instill greater creativity, innovation, and company outcomes.
Something else that your managers could use is tools, such as various apps that facilitate connection and remote communication.
Managers may know how to use these platforms for everyday assignments, such as allocating tasks and tracking costs, but this is in no way enough. They should also understand how to leverage these technologies to inspire, motivate, and develop their teams. This is especially important if your managers travel frequently or work remotely.
Given that most of these tools are digital, e-learning courses may be the most convenient and practical way to train your managers when it comes to implementation. So, set up modules that demonstrate the best use of communication apps and management systems and tools.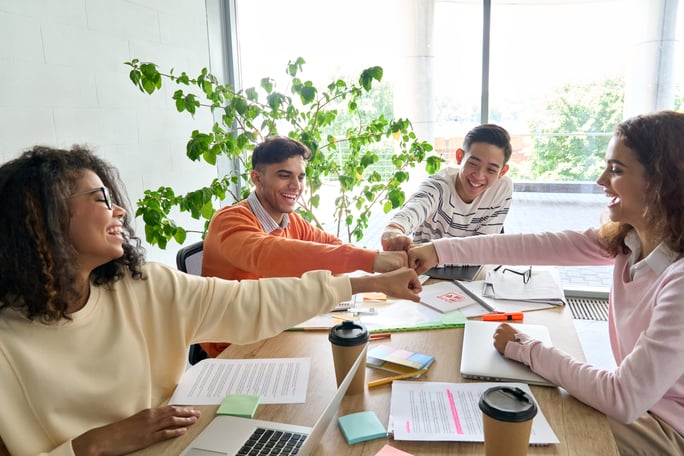 Keep Your Team Together
With the ever-changing markets and customer habits, manager training often becomes an afterthought. However, this can be a costly mistake.
The best way to avoid this is to focus on training your managers. Help them perfect their skills and perform more efficiently. This will help get your team on the same page and increase productivity across the board.
To find out more about creating a favorable environment that encourages your managers to stick around, apply to our agency accelerator program.